Prevention Services
(850) 872-7676 ext. 4444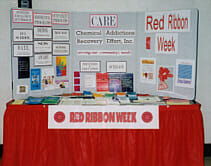 CARE believes that to prevent the abuse of substances, comprehensive education is necessary for individuals at risk, as well as the members of the general public.
CARE is committed to providing prevention programs to the community to generate a better understanding of the nature and effects of chemical abuse and reduce the stigma associated with addiction.
Some of the services provided by CARE include:
ALPHA PROGRAMS – School programs that target high-risk youth in grades 4-6 which include individual counseling and group sessions.
PREVENTION PROGRAMS – Comprehensive educational programs designed for the needs of churches, schools, hospitals, civic organizations, and clubs are available upon request.
DRUG FREE WORKPLACE – Educational seminar designed for employers and employees to generate understanding about the effects of substance abuse in the workplace.
DRUG ALCOHOL TRAFFIC EDUCATION (DATE)- Required course for all first-time driver license applicants who have not completed an approved driver's education course. The course focuses on traffic safety, Florida laws, and critical information on substance abuse.
EMPLOYEE ASSISTANCE PROGRAM (EAP) – Provides employers with assistance in establishing a program to resolve job performance problems in a positive and cost-effective way.